Though I had hoped we wouldn't experience it, jet lag struck Thing 2 and I early this morning — about 2:30 or 3 in the morning to be exact. We gave it the good 'ol college try and rested as best we could, but when it started getting light around 5 am, we got up and got busy. We turned on Italian TV, I wrote the previous blog post, we showered up, and got ready to eat breakfast.
Our first stop of the day was the Capitoline Museums, located on the Capitoline Hill, one of the seven hills on which Rome was founded, and near the Forum.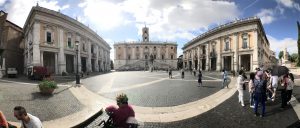 We got transportation tickets good for two days from the local tobacco shop (marked with a big black and white T outside; they sell stamps and stuff, too) and used Google Maps to route us to the museum via public transportation. Our tickets worked for bus, tram, and subway. The bus heading in the direction of "Fori Imperiali" was packed, and that's where we got off. It was still relatively early in the morning (around 8:45 a.m.), too. We headed up the hill, bought our tickets, and started walking around. As we walked up, we could see parts of the Forum on two sides of us. The highlight of the Capitoline Museum (for me) was being able to see the bronze statue of the she-wolf that saved Romulus and Remus, the founders of Rome.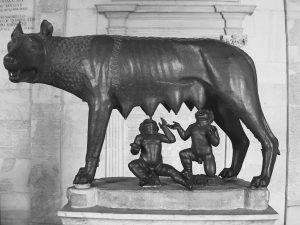 There was also a huge head of Constantine (and other parts of his body) that I had seen in photographs, and now I finally got to see it for myself.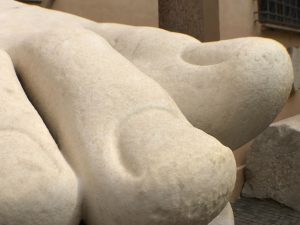 The museums also had some great sculptures by the master, Bernini.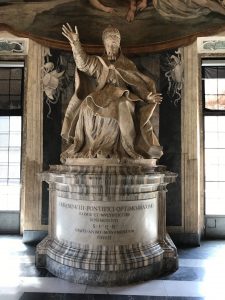 After the museums, we decided to try to find some lunch. I looked on Yelp and found a nicely rated restaurant in Trastevere, which was across the river from the rest of the city. It was conveniently located near a church I wanted to visit, the Basilica di Santa Maria in Trastevere, so that was good.
Thing 2 ordered herself a lasagna and I ordered a pasta carbonara. Both were delicious. Our restaurant was located near the piazza in front of the church. Tiny streets led out of the piazza; I thought they were pedestrian walkways through that part of the city.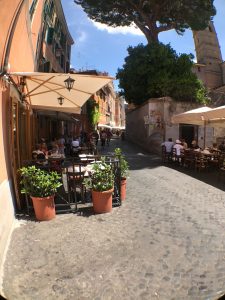 But, NO, cars and scooters still drive down these streets – and often. As a pedestrian, one must watch out! Also, all the streets are cobbled with these small black squares. They are hard to walk on after one has been walking all day. What I wouldn't give for a smooth Orange County sidewalk! It was fun to people watch people walking up and down the streets as they went about their business, and trying to avoid the cars and scooters. Anyway, as a treat, the waiter gave us two shots of limoncello to top off our meal.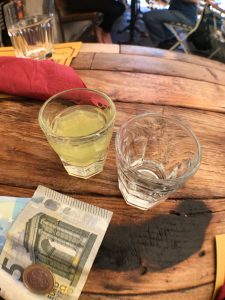 Thing 2 had a sip and decided she didn't like it, so I downed both shots. 😁
The church, of course, was amazing. Behind the altar of the church, the ceiling was domed, and it was decorated entirely in mosaics. They were AMAZING.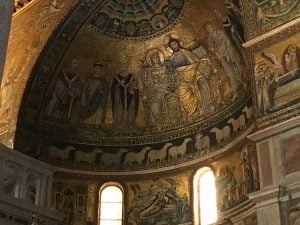 We spent about 30 minutes in the church, looking into each of the chapels off to the side, and we said our prayers.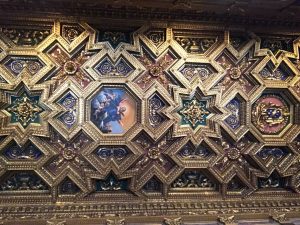 From there, it was our plan to visit the Baths of Caracalla (Terme di Caracalla). He was an emperor at one time. The baths, in their time, were large enough to hold 6,000 people. The complex even included a library and was multi-storied. The ruins were immense.
We found a shady bench to sit at for a bit to rest our feet. In the shade, and with the breeze, it was pleasant. But walking around in full sun, whew – it was HOT.
Lastly, going further south from the baths, we hoped to visit the Appian Way and the Basilica of San Sebastian fuori le mira (Outside the Walls). Our feet were killing us by this point, mostly mine. We got on the (overcrowded) bus again to get us down to the Appian Way. This street was cobbled and rutted and there was no sidewalk to speak of. I mention this because after the bus dropped us off, we had to walk a bit further to get to the Appian Way.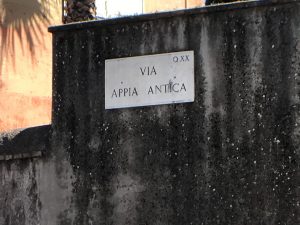 So, with cars and scooters whizzing past us, we set off . . . except we couldn't find the entrance to the park . . . so we thought, "Ah, let's skip it and just head, instead, straight for the Basilica di San Sebastian fuori le mura. It is one of the seven pilgrim churches of Rome. So we walked to the next stop on our bus route and figured we'd ride the rest of the way to San Sebastiano. But when I consulted Google Maps, I realized the bus only went one more stop, and we'd have to walk even more. In fact, we'd have to walk further from the bus stop to the basilica than the bus was going to travel to the next stop. So, sweaty and tired, and keeping in mind we'd been up since 3 am or so, we took our lives in our hands to cross the street to get to the bus stop on the other side. (There are walk / don't walk indicator signs, but not everywhere.) There are crosswalks indicated in the street, but one just has to step out and start walking and (hopefully) cars and scooters will stop.
[Funny story: Earlier in the day, on our way to lunch, we needed to cross a huge intersection outside the Capitoline Museums and in front of the "wedding cake" (more on that later) . . . We were standing by the crosswalk, waiting until what seemed like a good time to cross, except there weren't any. Then, on the other side of the street, I saw a young priest just start walking out into traffic. I said to Thing 2, "That man has God on his side!" And once everyone saw him walking out and traffic stopping for him – I mean, whose going to accidentally hit a priest!?! – they started crossing, too. As we crossed by him in the street, he let out a huge grin, knowing that he helped us all out.]
Anyway, we waited for our bus and headed on back to the hotel.
Since we had had a big lunch, we opted for gelatto for dinner – an even bigger serving than our first night.
We were back to our hotel at around 17:30, and I immediately took a shower and crashed. I think I slept until about 8 while Thing 2 listened to music. I woke up and read a bit before going back to sleep for good. And, we actually got a great night's sleep – both of us. This was good because we had to wake up early for our next day's agenda: The Vatican.
(For a few more pictures, including some you see here, of our day, view this link.)