So were on the fourth day of our road trip. We spent the weekend in Las Vegas, and then yesterday we drove to Moab. This morning, we got up WAY early (for vacation!) and hiked out to the "Delicate Arch" at Arches National Park in Moab, Utah. Below is a little wrap up our our experiences so far:
Vegas — It started off AWESOMELY at the House of Blues Foundation Room at the Mandalay Bay Hotel and Casino. We dropped off the kiddos at Uncle Walt's house for some cousin fun while the adults had a chance to hang out at the balcony of the Foundation Room at, like, the 72nd floor (or something) of the Mandalay Bay hotel. (I never usually get to go to things like this; thanks, Uncle Larry!)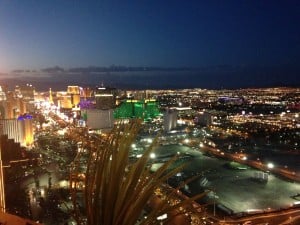 From there, some of the adults (including Mr. Rovira) went to go see the Nitty Gritty Dirt Band. (Not me, because I'm not that old, and I have no idea who that band is or what songs they sing.) Others of us went down into the casino. My niece, Ms. A, had never been gambling before, so Fairy Godmother Aunt Jennifer (not me, I'm Aunt Jenny) and Uncle Steve showed her how it was done as my other niece, Ms. M, and I watched. Then Mr. Rovira came back to pick me up to go back to Uncle Walt's and pick up our kids, after which we checked into our hotel room.
The next day, Mr. Rovira and I took the kids to the Paris Hotel and Casino for a real Vegas buffet breakfast. We wanted to go to that hotel because that's the hotel at which we got married. On the way back to our hotel, we stopped at the iconic Las Vegas sign for a touristy pic, before hopping into our bathing suits to spend a couple of hours at our hotel's lazy river pool.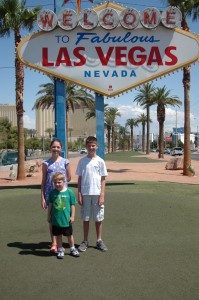 That was awesomely relaxing, until some rude Australian boys showed up. 🙁 We went back to the hotel room for naps before we had to get ready for Uncle Walt and Aunt Joy's big party.
Mr. T was the HIT of the party. It was a combination wedding vow renewal and retirement party. He danced the night away and had lots of fun with his cousins in the photo booth.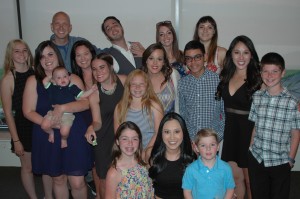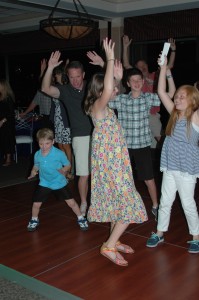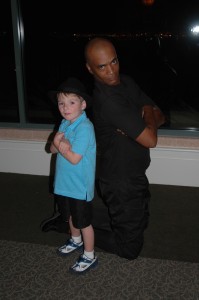 Waking up the next morning, we packed up and went to have some breakfast with Uncle Walt and Aunt Joy before hitting the road to Moab. The trip to Moab was about a six and a half hour trip, and we made stops along the way in St. George (for In-N-Out lunch!) and Richfield for gas. We got rained on outside of St. George, which was awesome, as it cleaned off our car of bugs!
Moab — We woke the kids up EARLY to go to Arches National Park. We wanted to see the "Delicate Arch" relatively tourist-free, and especially when it was a cool part of the day. When we set out, it was 55˚F — perfect! We got to the park so early, in fact, there was no one manning the ticket booth, so we got to enter the park without paying the $10 auto fee. There were only a few families at the arch when we got there, so Mr. T, Mr. Rovira, and Thing 1 were able to go stand under the arch and take a picture all by themselves. Mr. T was a trooper getting all the way to the top.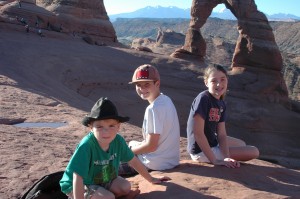 Now we're back in the hotel room, chilling out a bit and planning the rest of our day. The kids are chomping at the bit to go to the pool. We're researching options for how to spend the rest of the day. Unfortunately, Moab seems to be a pretty expensive place! A one-hour trip on the jet boat on the Colorado River is $55 per person — kinda steep for us. Plus, Mr. T doesn't weigh enough to go on the boat, nor is he old enough to go on the boat to begin with . . . or zip lining . . . etc. So, we'll walk the main drag, get some frozen yogurt, go to the pool, not necessarily in that order. 🙂
I'll check in soon!