In an earlier post, I wrote about the colorful goodness that is the rainbow sprinkle. Rainbow sprinkles enhance the beauty and flavor of any dessert or treat: donuts, frozen yogurts, milkshakes (my favorite flavor is peppermint), birthday cakes, and . . . cookies.
Tonight, I went to an Italian deli in Anaheim to get some sandwich fixings, meatballs, sauce, and pasta. They're an awesome market and I've been going there for years. They recently remodeled, and now there is an enticing dessert case near the front where I get bread and pay for my purchases. What was on display? I'm sure the dessert cannolis were delicious. But there was only one thing that caught my eye — melt-in-one's-mouth sugar cookies topped with rainbow sprinkles!
Here's a picture: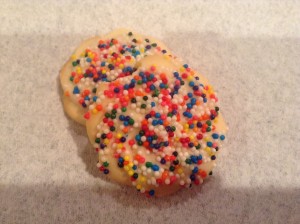 Yummy! Of course I had some after my dinner as a treat. I think I'll go have another now. Happy Friday!