This is a page to get to know me, Mrs. Rovira! I have many likes and dislikes! Are we similar or different? Read on to hear about my faves.
A little bit about Mrs Rovira . . .
First, you should know that I am a self-proclaimed "

nerd

" and PROUD OF IT! 🙂
Family
I have a husband, who is also a teacher, and three kids. My kids' ages are 17, 15, and 10.
Pets
I have a beagle named Black Jack. He is one year old! He is WAY cute, but sometimes he is a handful. He likes to dig in our yard (sometimes in inappropriate places), snatch things out of the trash, and beg for food. He is also good with cuddles and loves to go running with me in the early morning through my neighborhood.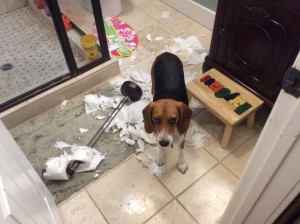 Home Base
Fullerton, CA
Quick and easy details include: I was born and raised in Anaheim, CA. My husband teaches at Beechwood. He is also a retired Major in the California Army National Guard. He has been on two deployments since we were married twenty years ago–once to Utah for a year after 9/11 and to Kosovo for 18 months in 2004-2006. Together we have three children. This is my seventeenth twenty-third year teaching, and I have been involved with GATE/Honors education for 21 of those years.
In my free time (which, frankly, doesn't come around that often) I like to sleep, read, and play on my computer. I'm a total Mac person and I love gadgets, too! I also have a hobby, mosaics. So far, I have made a decorative plate with glass pieces to keep in my house. Sadly it fell off my wall, so now I need to find another place for it.  I also enjoy working and playing around with Photoshop on my computer. (I get that from my dad.) I also like to bake. But mostly, I love to take naps when I can. 🙂
Faves
Miscellaneous
I love lots of sweets with rainbow sprinkles on them: (1) white rainbow sprinkle donuts; (2) buttery sugar cookies with rainbow sprinkles; (3) yogurt with rainbow sprinkle topping.
Tulips or daisies are attractive flowers.
When I go to Jamba Juice, I always get the same drink: Razzmatazz. Actually, whenever I go to any restaurant, I usually end up getting the same thing: scampi and chips at The Olde Ship, the #1 at Wahoo's, a beans/rice/cheese burrito from El Camino, vent-sized hot chocolate at Starbucks. I am a creature of habit!
EGGS ARE DISGUSTING. I HATE EGGS ANY STYLE: scrambled, fried, over easy, poached, hardboiled . . . WHATEVER. I've never liked them; even when I was an infant and my mom tried to feed them to me, I spit them out. Ew. Coffee is almost as bad.
I have a totally awesome SpongeBob collection. I have all the SpongeBob Legos and I don't even let my own kids play with them. I have a SpongeBob chia pet, Lego keychains of the characters, stuffed beanie babies in my car, water bottles with SpongeBob on them . . . you name it!
I also have an incredible Peanuts Gang collection. Most impressive is my Charlie Brown Christmas tree (just like the one in the movie!) and my Peanuts Gang ornament collection. Remind me to post a picture of it online when I set it all up this year.
The smell of eucalyptus is awesome and refreshing.
Finding forgotten money in one's pocket is a small personal joy I get from time to time.
Movies (seek parent permission before viewing)
The Usual Suspects
Lock Stock and Two Smoking Barrels
Room With a View
Sixteen Candles
Kung Fu Hustle
Grosse Pointe Blank
Actors
Michael C. Hall (Dexter!)
Ewan McGregor (Trainspotting)
Bradley Cooper
Justin Bateman and Will Arnett (Arrested Development)
Books
Spandau

by Albert Speer
anything by Jane Austen
biographies about historical figures from the Tudor period
the encyclopedia — no joke! I read an entry from it almost every night. I find something during the day that piques my interest, and then I read about it that night before I go to sleep
the atlas — again, no joke! I like to read maps for fun. Seriously.
Bands
The Clash
Coldplay
Scissor Sisters
Depeche Mode
Oasis
Blur
English Beat
pretty much any '80s artist or group–especially the Brits!–with the exception of hair/glam/metal bands of that era,
NO country music (except Patsy Cline, Hank Williams, Sr., Johnny Cash, Willie Nelson, and Asleep as the Wheel)!
Food
Mexican and Italian foods (in moderation, because of cheese!)
Korean BBQ
tame sushi
bacon
ice cream Not anymore! I've developed lactose intolerance. 🙁
French bread slathered in butter
DIET COKE (but I am phasing this out not really) 

Okay! I have officially beat my dependence on Diet Coke. I bought a soda stream and now just drink fizzy water (sometimes with a splash of flavor). I've had not a single Diet Coke in over 15 months! 🙂

I am drinking Diet Coke again. I still drink my fizzy water, though!
Places
London
San Diego
New Orleans
Washington, D.C.
San Francisco
anywhere I've never been