So . . . Saturday (our last day in Paris) dawned drippy and drizzly. Our plan was to visit the cathedral of Notre Dame, the Conciergerie, and the Sainte Chapelle. We got started a bit late (for us), but a little bit earlier than Notre Dame actually opened. I wanted to be sure to get there before the crowds.
We didn't have to take the RER lines at all to get there, which was a relief. We arrived, exited the Métro station, and got a little turned around. The Sainte Chapelle and the Conciergerie were easy to spot from the Métro station; both were across the street. Finding Notre Dame was a little bit tougher. It is actually located on an island in the middle of the Seine known as the Île-de-la-Cité. We could see the tops of the towers, but actually finding our way through somewhat winding streets was a little tougher. That, and the towers would sometimes be obscured by the other buildings in the way, but we eventually made it there. At the plaza in front of the cathedral, we stopped for a bit to take a picture of the entire front with the circular stained glass window (the western façade).
It is quite beautiful! There was a minimal line to enter the church, which we entered.
Inside, it was hushed and dim, but not completely silent. There were many tourists in there, and we had to get out of the way for a tour group to pass us, but then Thing 1 and I found a couple of seats to sit at for a bit and just take it all in. There was currently no service that we would be interrupting. We sat in the center of the church (the nave) for a bit, before getting up to tour the perimeter of the church. Along the sides of the church, the entire way around, are small chaplets, usually devoted to a saint of some sort. There was also a statue about halfway through the church to the left of the altar devoted to St. Joan of Arc,
made a saint in 1920, and one of the patron saints of France. Since I discuss Joan a bit towards the end of the year when I cover the Hundred Years War, it was nice to see her. (We had also seen a painting of her at Versailles in the Hall of Battles, and I was able to tell Thing 1 a bit about her for reference.) The stained glass was so beautiful that it is hard to put into words to describe.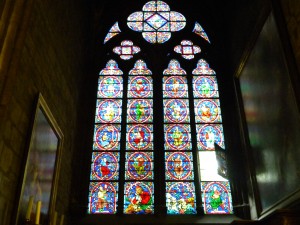 Despite the cloudy day outside, there was enough light coming through the windows that the cobalt blues and greens showed up vividly. The stained glass depicted scenes from the Bible and various saints and Biblical figures. Long ago, before most people were literate, monks and priests would have used these scenes to teach parishioners their faith. Each chaplet contained some stained glass windows, and most chaplets also had a rack of candles set up, for the saying of prayers. Thing 1 and I chose to light a candle for our family and our prayers at a chaplet for Mary (for a €5 donation).
After exploring the rest of the church, Thing 1 and I popped back outside. I was thrilled we had come early because, despite the drizzle, the line to get into the church had lengthened considerably! It spanned the length of the plaza and began to wrap around on itself. We walked around the plaza a bit, taking a snap of the large statute of Charlemagne in front and to the left of the entrance of the cathedral.
(I teach about Charlemagne, too, and there are lots of statues of him around France. He is important to France for several reasons, and I saw statues and paintings of him at Versailles, too.) I had to "stage" this photo carefully because someone thought it would be funny to put a white broom tucked into the statue with Charlemagne, and I didn't want it to appear in my pictures! Taking a photo head-on partially obscured the broom, so I was content.
Alongside of Notre Dame runs the Seine River, and in between the cathedral and the river is a small park that runs the length of the church. It extends behind the cathedral and is named Square Jean XXIII. Thing 1 and I ambled along, taking pictures of the side and the back (eastern façade) of the church. We could clearly see flying buttresses at the back of the church,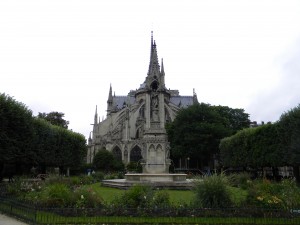 used by engineers of the time (medieval era) to help support the weight of such a tall-ceilinged nave with thin walls. Toward the back of the Square Jean XXIII is a road, and Thing 1 and I discovered that it led to the "Bridge of Love" we had been looking for a few days earlier. I was thrilled I could take some photos of it for my dad. The bridge is actually named the Pont de l'Archevêché, and its metal grating has been covered (and then some) by padlocks.
Couples come to Paris — to this bridge! — and symbolically commit (make a grand gesture, if you will) to their relationship by attaching a lock with their names on it to the bridge and then throwing away the key into the Seine below. (Street vendors nearby sell locks for anywhere from €5 to €10.) Some locks are bike locks, antique looking ones, or ones that look like the locks my students use on their gym basket at school.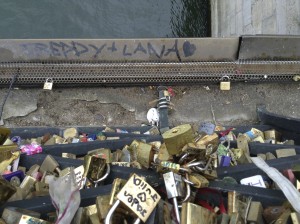 There are locks upon locks upon locks. Many in Paris don't actually approve of the act, as the keys rust in the Seine down below, and sometimes parts of the siding of the bridge collapse under the weight of the locks. Indeed, one section of ironwork on the bridge was missing, plywood bolted together where grating once was, and on the plywood was painted "Make love, not locks!" Incidentally, Thing 1 and I also saw locks bolted to the caging on the Eiffel Tower when we visited earlier in the week. Throwing the keys off the tower would be very dangerous, indeed, to the people below, so I wondered what people did with those.
I also learned that the Pont de l'Archevêché was just one of the bridges in Paris to receive this dubious "locking" honor. Another bridge to suffer the locks is the Pont des Arts. A recent L. A. Times article detailed a collapse of part of the parapet of the bridge due to the weight of the locks. According to Wikipedia (so take this with a grain of salt),
In recent years, many tourist couples have taken to attaching padlocks (love locks) with their first names written or engraved on them to the railing or the grate on the side of the bridge, then throwing the key into the Seine river below, as a romantic gesture.[1] This gesture is said to represent a couple's committed love.[2]The City of Paris has not yet adopted a definitive policy on how to deal with this new fad. The French police have been known to patrol this bridge to stop keys from being thrown into the river.

In March 2014, two American women living in Paris launched an online no-love-locks campaign to remove the padlocks from the bridge. They say that the bridge became physically damaged by the weight of the locks (93 metric tons of metal), by the rust that passes onto 

the River Seine

 and by the environmental damage to the river from the keys that are thrown in and rusting. The campaign received more than 1600 signatures in one month.

[3]
There are locks upon locks upon locks . . . upon locks upon locks . . . you get the idea.
Earlier in the week I promised Thing 1 I would take him to a great ice cream place I read about nearby on the second of the islands in the Seine, called Île Saint-Louis. It is called Berthillon. We walked the very charming Rue de Saint Louis en l'Île looking for the shop. Once we found it, we went inside and Thing 1 got some vanilla ice cream while I got a mushroom and cheese omelette with some salad and pommes frites.
(I didn't ask for the fries; they just came with it.) The ice cream truly was as good as the guidebook made it out to be. And after that, we went back up the street stopping in a few of the shops to look for little gifts we could bring home to our loved ones. There was an amazing marionette shop with truly awesome marionettes in the window, but we stopped instead in a shop where I got a gift for Auntie Susu. We also visited a candy shop to get some caramels to take home to share with family after our shared Sunday dinners and two peppermint suckers for Thing 1 and I. Next stop was the Conciergerie.
The Conciergerie served as a prison of sorts during the French Revolution. It is very old, construction having started in the 1300s. Various kings made their home there throughout its history because originally it was a palace (the Palais de la Cité), and then later became known as the Palais de Justice. We entered into a great, dimly lit hall that at one time had housed guards and arms, the Hall of Guards.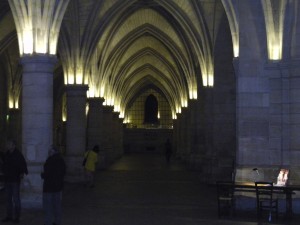 From there we viewed various cells, some delegated to poor prisoners (pistole) or very poor prisoners (oubliettes) who would have only been given straw to sleep on, and others reserved for the aristocracy, complete with a bed, table, and some other creature comforts. (This did cost them.) We saw a reconstructed cell in the area Marie Antoinette had been held before she was taken off to the guillotine to be beheaded.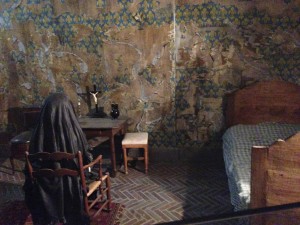 (The Conciergerie had been modified since her internment there, and historians have tried to recreate as accurately as possible the conditions of her room and her cell.)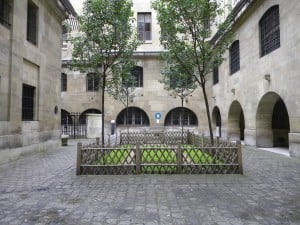 The chapel of the old Palais de la Cité, the Sainte Chapelle, was our next stop before heading back to our hotel. The Sainte Chapelle is an amazing church with breathtaking stained glass windows. It was consecrated in 1248, and originally commissioned by King Louis IX to house holy relics, including Christ's Crown of Thorns and parts of the True Cross. There are actually two chapels inside, one on the lower level and the amazingly beautiful one on an upper level. The upper level chapel is accessible via a very narrow circular staircase, and it is the one that contains all of the stained glass.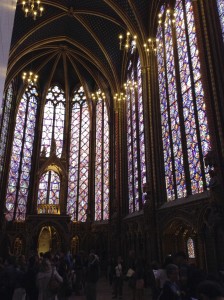 The stained glass, as with other medieval churches, retells scenes from the Bible from both the Old Testament and New Testament, depicting moments from Jesus's life and the life of John the Baptist, in particular. The chapel and its glass was damaged during the French Revolution but, despite this, nearly two-thirds of the glass is original. When we visited, there was scaffolding set up for restoration work. Twenty-first century pollution and large numbers of visitors throughout the ages have taken their toll. Despite this, it was awesome to see. As with Notre Dame, its being a dismal and dreary day did not dampen the impact of the glass in the chapel. Colors still appeared vivid and sharp.
Alas, we had to keep to a schedule, though, and it was time to head back to the hotel to pick up our bags. We were going to take a taxi from the hotel to the Gare du Nord, which is the big train station that the Eurostar uses. Supposedly, it is the busiest train station in Europe. That is where we were going to catch the "Chunnel" train to London. It is a high-speed train, reaching speeds of up to 186 mph! We were looking forward to our trip, if anything because we knew we would be entering a country where we spoke the language! There is something very comforting in that.
We arrived at the station, made our way to the Eurostar ticket kiosks, and I prepared to enter in our reservation information while Thing 1 found a restroom to use. I had a momentary panic because I couldn't find my email from Eurostar (or a printed copy of it in my bags) with my reservation number on it. Without the reservation number, I could not print out our tickets. I tried putting the credit card I used to secure the reservation into the kiosk, but I knew it probably wouldn't work because of my previous experience with trying to purchase Métro tickets with a U. S. credit card. I thought, "It's Eurostar, not regular Paris Métro . . . it might work?" But it didn't. Meanwhile, Thing 1 came back without having used the restroom because it cost a few Euros to even get into the restroom, which he didn't have in his pocket. I began to tear my suitcase apart looking for the paper email, which I found, thankfully, but not before I started breaking out into another stress sweat. I entered in our reservation number, printed out our tickets, and then proceeded to visiting the immigration services for both the French and the British governments. Having gotten our next stamps in our passports, Thing 1 and I proceeded to the Eurostar waiting area of the station. In this part of the station, Thing 1 was able to use a restroom for free (yay!) and we caught a bit of the Tour de France on television, which had just started that day in England. We had a short wait before we boarded our train, which was so much nicer than traveling in a cramped Métro train! There were assigned seats, nice and roomy, with outlets near them for charging our devices. We were served a nice meal, most of which Thing 1 did not eat because he was so picky.
Most of the Chunnel train route is in France. It is only for a small amount of time that the train is actually under the English channel (about 10 to 15 minutes?), and then the rest of the route travels through the English countryside until it gets to St. Pancras International station in London. The French countryside is full of rolling fields and small villages. It looked as if various grains were being grown or had recently been harvested. Some of the fields were green, and some were golden, and the weather had cleared a bit to become dry and sunny, with large cotton clouds in the sky. Before we entered the channel tunnel, there was a small announcement on the train, and then a few minutes later, the lights went on as the outside became black. We emerged into the English countryside, which was just as rolling and beautiful, if a bit more green. It wasn't much longer after that when the train pulled into the station in London. We grabbed our bags, got off the train, and emerged into the very busy St. Pancras International.
I had promised Thing 1 a shopping trip to the Harry Potter Store at Platform 9 ¾, which is in Kings Cross Station, located right next to St. Pancras. We wheeled our suitcases over to Kings Cross and began to look for the store. It is located (duh!) right between platforms 9 and 10 in the station. The thing about the large London stations is that they are a place to shop and eat as much as travel. Kings Cross had nice shops in it like a Kiehl's store and a Starbucks, as well as an American Apparel and a Boots, which is sort of like a CVS or a Walgreen's. We found the Harry Potter store, but my heart dropped when I first saw the Platform 9 ¾ sign because there was a huge line beside it. I said, "Thing 1, I think that is the line to get into the store!" Thing 1 grimaced a bit, but then it became clear that it was just a line to take a picture next to the Platform 9 ¾ sign! Fans dressed up in a scarf and Harry Potter-ish glasses, stood next to a pile of luggage, and had their picture taken (for a fee, we discovered, when we entered the store). To the left of the line a bit, tucked behind a column, was the actual store itself which did not have a line to enter — though it was packed.
I waited outside with our suitcases while Thing 1 went inside to look around and make a small purchase of Bott's Beans (really Jelly Bellies with icky sounding names).
Finally, it was time to make our way to our hotel. It was now nearly 7:30 p.m., and we were getting tired and anxious to get settled. We made our way out to the front of the station to hail a London black cab. Though Kings Cross Station has an Underground station beneath the rail station, there was NO WAY I was going to get on a tube train with heavy suitcases after our crazy experience in the Paris Métro with said luggage. Our hotel was only a 15 minute trip via cab from Kings Cross, so off we went.
Most Americans do 
not
have an appreciation of the training that is necessary to become a licensed London black cab driver. I wouldn't have either, had I not seen a small documentary on the subject about three weeks before we left for our trip. On average, it takes more than two and a half years for a driver to master "The Knowledge," which is 
all
 of London's streets, sights, hotels, restaurants, and clubs and where they are located. London drivers are required to not only know the layout of the city down to the most minute details, but also to know the shortest, most economical route from one point to another. (
Click on this article
from
The Telegraph
for an explanation.) I asked our driver (once we got settled in our cab) about his experience, and he admitted that it took him two years and nine months to master The Knowledge and pass his test to obtain his license. When drivers are going through their training, it is highly encouraged to obtain a scooter and drive around the city with a map on a clipboard strapped to the front of the scooter so as to more intimately learn and personally visualize where everything is. He said that he absolutely did that. He asked us where we were from, and perked up when we mentioned Los Angeles. He asked us about the weather, and we said that it wasn't that hot when we left, but that it would certainly be heating up upon our return in July and the start of school again in August. We said that it regularly got up to 98˚ or 100˚ in August and September, but he looked puzzled until I realized that he didn't have any reference for what that meant since the English use metric measurements for temperature. A quick consultation with the conversion app on my phone, and I threw out 35˚ and 38˚ and he "got" it. He apologized for their weather, but I replied that compared to our temperatures, theirs were 
great
. I 
hate
hot weather, so experiencing a nice 22 or 23˚ (about 72˚ F) was a treat. We traveled past Trafalgar Square, Westminster Abbey, and Westminster Palace on our way to our hotel.
We got checked in, got settled a bit, and went down to the lounge below to get Thing 1 a personal pizza to eat for a late dinner (and me a relaxing drink!). Our hotel room was nice and spacious with a great view.
Across the street from our hotel was the Burberry headquarters and we could see the tower for Westminster Palace peeking behind that. There was construction going on directly across the street from us, but it caused no excess noise or disruption. We were located just a few doors down from the Tate Britain, and not far from the Thames River. Thing 1 and I tucked ourselves into bed . . . we had a busy day tomorrow. On our agenda: Greenwich (and the Prime Meridian line) and Madame Tussaud's (for some touristy fun).
Okay . . . so we walked around Versailles for about four hours? It was a long time. I can see why some people buy the two-day pass. Though I wish I had more energy (and less pained feet) to see the Petite Trianon farther out on the estate, I had to remember that this was Thing 1's vacation, too, and he declared he was fine if he didn't see it. I honored that. I adjusted my shoes a bit so I couldn't feel the blister, and we set off leaving the palace's grounds to head back toward the train station and the McDonald's across the street.
Thing 1 and I have been careful to avoid (for the most part) American restaurants, because we want the "full experience" of being in this other country. Why eat at a McDonald's here when one could so easily eat at a McDonald's in the U. S.? Where's the new experience? Nevertheless, sometimes it cannot be avoided, or it leads us to feeling just a little bit closer to home; there's some comfort to kinda knowing what you're going to find. Except . . . the menu isn't exactly the same. And, we discovered, there are some delightful additions to a McDonald's in Paris (or Versailles, just outside of Paris), that an American McDonald's just doesn't have. An American McDonald's has a plastic or acrylic boxed container sitting on the counter with stale, old tarts or cookies inside. The Versailles McDonald's has this:
It was pretty amazing. How does one choose when tempted with all of that delicious goodness? Interestingly, they also had kiosks set up through which you could place your order, pay by credit or ATM, and then pick it up at a special line. This wouldn't work for us, of course, because I don't have that credit card with the chip in it like most of Europe has, so we had to wait in a regular line. In the end, Thing 1 got his ice cream and we left to board the train. This time it was easy to figure out what train to get on because we were at the end of the line. There was only one way to go. No RER problems to face!
Our next stop was going to be the Arc de Triomphe. Originally, I had planned (since it is open until midnight) to visit it once we arrived in Paris after we dropped our stuff off at the hotel. But, we were exhausted (and dripping in sweat), so we let it go. But it was necessary to visit it before we left, so we decided to squeeze it in between the Palace of Versailles and the Louvre. It is possible to ascend the Arc de Triomphe; there are stairs inside and a viewing deck at the top, but Thing 1 said he "passed" on going up the steps (as our feet were really tired by this point). There was no elevator. So we contented ourselves with simply walking around it and sitting for a while to view the traffic as it circled the Arc. That was entertaining beyond belief!
There are NO marked traffic lanes within the traffic circle that surrounds the Arc. Cars, trucks, taxis, and scooters may enter the circle from the Champs-Elysées and no less than eleven other avenues, and there are no traffic signals to indicate when to enter or not. There are only signals at the beginnings of avenues leading out of the circle, and if one of them is red, and cars want to enter, they must wait, backing up all the other cars in the circle. But no one wants to stop, and some want to veer to the right to make sure they get their opportunity to exit the circle at their desired avenue, so they  keep pushing in and driving forward, cutting off other drivers, nearly causing accidents in their quest to get to the avenue they want. There is a tremendous amount of honking and gesturing. The scooter drivers complicate things as they zip in and out of traffic. I regretted that I didn't have the stop-motion camera app installed on the iPad I was carrying around, because that would have made for some interesting viewing. (I resolved to install it when I got back to the hotel so I could film Trafalgar Square in London in the same manner.) Thing 1 and I viewed the Tomb of the Unknown Soldier (from France during World War I), and viewed the reliefs along the side of the Arc.
There was a wonderful breeze there that helped cool us off and refresh us a bit before our trip the the Louvre.
Feet hurting, we got back on the Métro to make our way to the Louvre. It was open late on Fridays, so even though it was now about 4 or 5 in the afternoon, it would still be open until nearly 10 p.m. that night. The plaza outside the Louvre was wildly busy with tourists, even this late in the afternoon.
We made our way to the "fast track" line since I had the Paris Museum Pass, had our backpack x-rayed, and made our way into museum. (Did I mention that Thing 1 had free admission to every museum we visited? In France, anyone under 18 years old gets free admission to museums. Also, if one is an EU citizen, under age 26, one gets in free or a significant discount. Also, anyone who is unemployed gets in free.)
We made a beeline for the Mona Lisa, the most famous painting in the museum. We went up stairs, then up more stairs, took a right, then maybe a left . . . it was deep inside the museum, which was HUGE. It used to be a palace. There was no air conditioning, and the place was filled with people. There were no elevators, or lifts. Thank goodness they had some photocopied signs that directed us to her. It was very hard to find one's way around this museum! We entered a huge room with high ceilings, filled with Italian art. And there she was.
She was on a wall all by herself a little bit past the middle of the room, behind a piece of glass. Viewers were held back from her a bit by a semi-circular line of barriers, to give everyone a better chance of seeing her. At that, people were still six and seven deep, so Thing 1 and I waited our turn to push our way into the group as people at the front pushed their way back out. It is wonderfully satisfying to finally see something in person that one has only looked at in books, and I was very happy to gaze at her a bit and take it all in. She wasn't was small as I expected her to be; people have mentioned she isn't as large as one would expect, so I was thinking she was much smaller than she was. But, I do have to say that, compared to some of the amazingly large paintings in the room that she is in, she is quite small. Thing 1 and I gazed upon paintings that took up entire walls they were so large.
Well, having seen our prize, Thing 1 was anxious to leave. No art lover is he. I was also feeling weary, but we were at the Louvre(!) so I felt some obligation to look around a bit longer. I saw paintings by other Italian masters, as well as some by Albrecht Dürer and Pieter Brueghel, both of whom I also discuss a bit when we get to the Renaissance in history. Did I mention that it was hot – stale air, really, and that there were a lot of stairs and this place was hard to navigate? I know I did, and after a while, that's all that Thing 1 and I could concentrate on. Somewhat miserable because of all of that, and tired, we decided to leave and make our way back to the hotel. (It is hard to really concentrate on the beautiful art when sweat is dripping down one's back and one hates to sweat!) The Métro, and the train car we got on, were just as sweaty and stale — and we were crammed into that like sardines — that making it to our hotel was a relief! We turned up the air conditioning, took showers, and fell into bed. I read up on our sites for the next day, falling dead asleep. Thing 1 obviously turned off all the lights at some point and put himself to bed (good boy!) because when I woke up in the night, he was sleeping soundly and all was well.
Tomorrow would be our last day in Paris; we were leaving in the late afternoon on the Chunnel train to get to London. We were both looking forward to it, as at least we would be in a country where we could speak the same language! There is something immensely comforting about that. But before we left, we would be visiting Notre Dame, the Conciergerie, and the Sainte Chapelle. Still a full morning! I pulled my blanket up, turned over, and went back to sleep.