But you would barely know it by the looks of the weather.
Summer vacation officially started at 11:44 on Thursday last week (May 28), but the mornings have been so socked in with overcast and gloom that it is hard to get motivated to do anything. Instead, I want to snuggle up in my bed and keep reading the news and browse Facebook.
It didn't help that I started off summer vacation with a cold. I was cleaning out my classroom on Wednesday. I was sneezing a lot, and my eyes were watering, but I thought it was just because the classroom was dusty. However, then my throat started to hurt, which doesn't normally happen with allergies. I went home and slept as best as I could, and I showed up for the last day of school (Thursday) feeling miserable. I went to the pharmacy to get some better over-the-counter cold medicine, took that, stayed in bed on Friday and most of Saturday, and I feel better. But I still just want to stay in bed. I should go running.
Yesterday, Mr. T and I did go for a walk. I wanted to try out my new GPS heart rate monitor running watch. We certainly weren't running, but I was keen to see how the GPS worked. We walked from our house to the Sunny Hills Post Office to mail two thank-you cards, a 3.26 mile round trip. The watch worked great, and I'm going to take it with us on our road trip. That was one thing that I did do while I was relaxing in bed — plan our summer road trip to seven different states.
Yep, you read correctly . . . we're going to visit seven different states in the next three weeks. We starting off by heading to Las Vegas, Nevada. Mr. Rovira's oldest brother lives outside of Las Vegas, he and his wife recently retired, and they are celebrating, too, their tenth wedding anniversary. So, they're throwing a party for the whole family. Mr. Rovira's family is HUGE (he is one of eight children, who all have children), and though not all siblings and cousins will be there, it will still be quite a fiesta. We're starting off in the House of Blues Foundation Room on Friday (tonight) evening, and having a big shindig on Saturday. On Sunday, the Fullerton Roviras (us) will pull out from Vegas and head northeast toward Moab, Utah. Arches National Park is in Moab, Utah, home of the "Delicate Arch" which is featured prominently in vacation videos promoting Utah.
I hiked to it with my dad a couple of years ago when we took a road trip to Denver to deliver my brother some furniture shortly after he moved. It is only about a three-mile walk . . . but the first half of it is uphill.
And this is why I am excited to take my GPS watch. I want to see the net elevation gain total, see my heart rate as I ascended, track our speed. (With Mr. T, I can assure you we won't be traveling quickly.) When I get done with a run, or walk (as the case may be), I just hook up my watch to my computer and the stats all download for me to examine and study.
We're going to spend about a day and a half in Moab, long enough to do our hike and rest afterwards. Then we're going to get on the road again to travel to Denver, Colorado. It is about a five to six hour drive from Moab to Denver. We're going to be staying in Denver for two full days visiting with my brother before we move on again, this time toward the southeast. Our ultimate destination is New Orleans, Louisiana, where Mr. Rovira's other brothers and cousins live. We're going to travel east out of Denver and into Kansas. We're going to stay the night in Wichita, Kansas, drive south through Oklahoma into Dallas, Texas, and drive from Dallas to Louisiana. I am looking forward to some barbecue in Texas. It is the best.
We're spending a week in Louisiana. While there, Thing 1 and Mr. Rovira (and maybe Mr. T) will go fishing (or shrimping). One of the best things to do in Louisiana is have a shrimp and crab boil. It is hard to describe but totally delicious. It requires fresh shrimp and crab, ears of corn, potatoes, celery chunks, seasonings, and a big outdoor stockpot to cook it in. Then, to serve, you set out a bunch of newspaper on a table in the backyard, all sit down, drain the shrimp and fixings, and dump it all out on the table. It is THE BEST.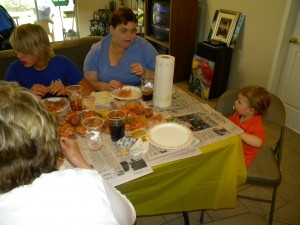 More later . . . I have to pack now.