Thing 2 and I were up and at 'em again nice and early today. However, we did get to sleep in a bit because the meeting point for our tour was only just around the corner from our hotel and maybe a five minute walk total.
The air as set out was nice and cool, which we just loved every time we walked out the door. Our destination was Berchtesgaden, which is a small German town in Bavaria. But it is also famous as being the town nearest to Adolf Hitler's alpine compounded name the Eagle's Nest. It was at the Eagle's Nest that he entertained high-level dignitaries on occasion. I saw "on occasion" because Hitler didn't really visit at much as others in his set, like his girlfriend, Eva Braun. In German, the name of the house is Der Kehlsteinhaus, and builders were in a rush to finish it before Hitler's 50th birthday.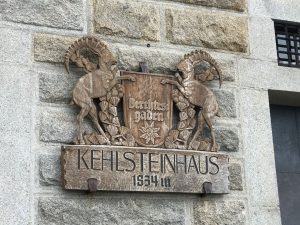 To enter the house, it is first necessary to walk through a long, damp tunnel into the mountain on which it is built.
From there, one enters in a large elevator, with the inside walls and ceiling plated in brass, shiny enough to use it as a mirror. The operators of the tour made sure to cram about 40 to 45 of us into the elevator, although in Hitler's time, he would never allow more than six to travel with him in the elevator at any time. Why the brass mirrors and over-large elevator? Supposedly Hitler was both claustrophobic and afraid of heights, so this particular set up help him cope with that. The elevator let guests out in a hallway and immediately the smell of good German food wafted into our nostrils. The area of the house that is now in use as seating for the restaurant guests was once Hitler's large entertaining room. There's a fireplace in the room that is original to the room, with red marble for it donated by Mussolini.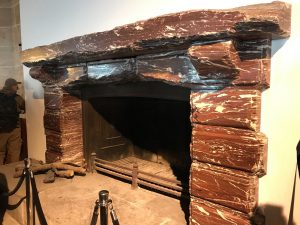 A little room off to this mail room is a room that Eva Braun used for entertaining the female guests while Hitler was busy with their husbands. A sun terrace was built off that room, which has now been enclosed in class to make a short of viewing terrace. It was from here that we went outside and began walking around on the mountain peak itself that this Kehlsteinhaus was built onto in 1938.
To say that the view literally took my breath away is somewhat true, in that it was so cold at the summit that I found it hard to talk without shivering or take my photos. And, it is beautiful.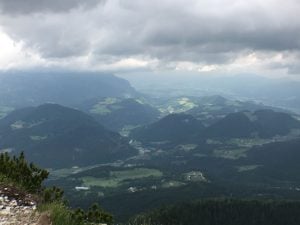 It was only 10º C at the peak (which I walked up to) at about 10:30 in the morning. That means it was a mere 50º F at the peak, which is a temperature I haven't experienced for a long time. It never is that cold during the day where we live. I think the last time I was out for any length of time in 50º weather was when we had a cold snap over Christmas two and a half years ago. It. Was. Cold.
After exploring and taking breathtaking photos of the Alps, we bought some gifts and souvenirs. We headed back down Hitler's elevator, and we entered our tour bus again to make our way down to the town of Berchtesgaden itself. There, we had a bit of time eat and pop into look at shops.
I bought a trachtenblusen, which is like a cute female equivalent of a shirt/blouse that could be worn with lederhosen, if ladies wore lederhosen, which they traditionally don't. (Those are for the guys. The lederhosen are the leather shorts that they wear with a shirt.) However, I did see some cute jeans that ladies could wear with embellishments on them that would look like male lederhosen. Anyway, I got one of those cute blouses. I can wear them to work.
Berchtesgaden is not that far from Salzburg, along the Alpenstraße, so it only took us about 30 minutes to get back to Salzburg. I had to quickly run across the bridge from our hotel into the Old Town to see about getting validation for my tax-free receipt for the dirndls, and I bought two more presents for home. After that, we took a taxi to the Hauptbahnhof, and caught our train for Munich. The train was PACKED. Thing 2 and I had to sit separately, and I think I was sitting next to a Hungarian woman and her granddaughter. They certainly weren't speaking German, and Grandma was working on a crossword with accent marks on letters that looked like it might be Hungarian. (I am not sure where that train originated.) Unfortunately, even though our ticket said "München Hauptbahnhof" the train only went to "München Ost," which was the eastern Munich train station. From there, we had to haul our luggage off the train and switch to their tram line to get the "München Hauptbahnhof" which was a drag. Luckily, our hotel was RIGHT near the Hauptbahnhof, so we didn't need to catch a taxi this time to take us to our hotel. It was literally across the street.
We made it to our room, dropped our stuff off, Thing 2 got comfortable, and I decided to go out and explore Munich a bit. I was also on the hunt for a large bag that I could put our dirndls into, since I couldn't pack them. (I had to show them to a customs official upon leaving the EU. Also, I really couldn't fit any more in the way of souvenirs and stuff into my suitcase; it was getting overloaded!) So, I found a German department store, made my way there, and then kept walking some more up the main drag toward a city center called Marienplatz. I just wanted to see all the stops and look for Munich manhole covers for my dad. (Have I mentioned this yet in any of the posts? My dad is a photographer, and he has started a collection of manhole photographs from cities he's visited. I snapped some distinctive ones in Rome and Florence. Vienna and Salzburg didn't have distinctive ones, but Munich's manhole cover has a monk on it, holding the "rules" of the city.) As I walked closer to Marienplatz, it got more and more crowded. There was a beer fest going on, and a stage with live music.
Different vendors were selling all sorts of traditional German food. I didn't know what they were celebrating, but it was crowded and looked fun. But I was getting tired, so I made my way back to the hotel, showered up, and got comfortable reading one of the books I bought, Brunelleschi's Dome, about the construction of the dome on the cathedral in Florence. I drifted off to sleep, happy in the knowledge that Thing 2 and I didn't have to wake up at the crack of dawn the next day. For the first time on our trip, we could actually sleep in a bit.
All in all, another great day.