The alarm went off on my iPhone urging Thing 1 and I to wake up, but I put it into "snooze" mode for a bit because we just weren't quite ready to get up. After about two cycles through "snooze" I finally got up to get ready, turning on the television as I dried my hair and put on some make up. (There was no point to turning on the TV in France because we wouldn't have understood a thing that was said.) In London, that was a different story; that and Thing 1 thought I was joking when I said the channels are named "BBC 1," "BBC 2," "BBC 3," and so on. He could see that I wasn't joking. Eventually I told Thing 1 to get up and start getting dressed, too, because today we were off to be time travelers!
What do I mean? Our first stop was to head to Greenwich, the site of the Royal Observatory and the Prime Meridian, 0˚ longitude — the point at which the world is divided into a western and an eastern hemisphere. It is along the Prime Meridian line that Thing 1 and I could be in the past (the western hemisphere), the future (the eastern hemisphere), and the present all at the same time. How cool was that! First things first . . . we had to get travel tickets for our trips on London's Underground, busses, and trains.
We headed off to the nearest Underground station, which was Pimlico, about a half-mile away from our hotel. On the way we passed the Tate Britain, an art museum. There was a sign — that I didn't read too carefully — that had "Pimlico and a ½" on it. I assumed it meant that the station was ½ kilometer away, but Thing 1 (who was proving to be a much better navigator than I was), said, "It is only ½ mile, Mom!"
ME: "No, they use metric measurements here so it probably is only ½ kilometer away!"
THING 1: "No, Mom, it says ½ mile!"
ME: "Oh, so it does!"
(Interestingly, though the English use metric measurements for temperature, they use Imperial measurements for distances. I never figured out why.)
So we walked on toward Pimlico, but instead of taking a left to cross the street where we should have to get to the station, we got distracted and continued to walk straight. Eventually we found ourselves at an even bigger station, Victoria. Victoria Station is a major Underground, Rail, and bus transportation center. It was PACKED, or so I thought. It was a Sunday; I wondered what it would be like when we visited later on during the week when regular work commuters would be buzzing in and out. Since I knew that my credit card wouldn't work in one of the self-serve kiosks, we got in line to actually purchase what we needed from a real, live person. I ended up getting an Oyster card and, because it was cheaper for Thing 1 to get a daily Travelcard, I got him two of those to last the next few days. (We would be getting the London Pass in a few days, which provided skip-the-line admission to the most popular London tourist spots and travel for each of those days). The Oyster card was like a credit card, and I merely had to "tap" it or "slap" it on the Underground turnstile as I entered a station and to tap it or slap it upon leaving a station. The proper fare would be automatically deducted from the amount I had pre-paid onto the card. And, once I reached £7.70 for the day it would "top off," not charging me any more that day, regardless of how often I got on the Tube or a bus.
We took the Tube from Victoria to the Tower Hill stop. From there, we had to transfer from the Tube to the Docklands Light Railway (DLR). We would travel on the DLR from Tower Hill to the Cutty Sark stop in order to reach Greenwich. It was pleasant, and we got to see more of London than we would have had we been below ground.
After getting off at the proper exit, we began our walk to the Royal Observatory. Our guidebook estimated it was a twenty minute walk through the town of Greenwich and the park surrounding the observatory to get to the Prime Meridian. Everything was well-marked, so we knew exactly how to get there. Here's the other thing that Thing 1 and I were noticing about London: There are signs everywhere telling visitors how far away a sight is (or a Tube stop) both in mileage and minutes, and in which direction. There is always a Transport for London (TfL) worker at the turnstile to help with any problems someone may have as they make his or her way through the turnstile. I would have loved for someone to be at the turnstile in Paris when I first ran in to problems getting to our hotel from the airport, when Thing 1 and I were separated for a tense five or ten minutes. There was always a manned ticket counter to purchase tickets or to ask questions. I much preferred traveling public transport in London compared to Paris. That, and the Tube cars were so much cleaner!
We passed a store with souvenir-ish items that I thought we could revisit on the way back to the Tube station on our way back to London. I had to start thinking of small trinkets we could bring back home to Mr. T, Thing 2, and our other close family. Walking on, we passed the National Maritime Museum and the Queen's House. We also observed that outside of these landmarks, filming of something was occurring. Power cables criss-crossed the ground, parts of the sites were fenced off, there were catering trucks about, big filming lights set up . . . we didn't see any famous actors or actresses, but it was clear this was a high-budget operation. Greenwich Park itself is huge, and people (families, couples, singletons) were enjoying the mild weather and sunshine.
The Royal Observatory sat atop a hill, its distinctive weather vane clearly visible in the distance.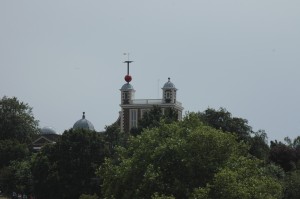 The guidebook informed us that the observatory sat at the top of a steep hill. It was steep — it reminded me of the hill I have to ascend at the end of my run on the trails that surround Fullerton. I HATE that hill . . . why did I have to face one like it on my vacation? But I wanted my picture at the Prime Meridian, so up we went. (What does not kill me makes me stronger, eh?)
Thing 1 and I paid for our admission and went first to the Meridian Courtyard to get in line to take our pictures along the Prime Meridian. As I waited in line, Thing 1 explored some of the exhibits in the buildings that surrounded the courtyard. Meanwhile, I watched various tourists take their pictures along the meridian line with one foot in the western hemisphere and one foot in the eastern one. Boring! When Thing 1 came back to wait with me in line, I told him that he had to do something campy and fun with his pose, to be different. When our time finally arrived, he took my words to heart by lying on the ground across the meridian line.
This amused the rest of the tourists that were in line behind us, so much so that many of them ended up taking photos of Thing 1 in addition to the ones they would take of themselves. A very nice family from Italy in line behind us took photos of both Thing 1 and I together, too.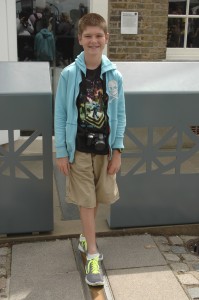 By the time we were finished with our photos, Thing 1 went back looking at some of the exhibits and my attention was caught by an actor in 18th century period dress putting on a small performance in the center of the courtyard. He was telling the story of the longitude problem — how difficult it was to calculate it and how it was such a big problem in history that the monarch sponsored a contest to solve it. At one point, he called out to the crowd, "And does anyone know who finally solved the problem?"
I did! I yelled out, "John Harrison!" and the actor congratulated me on my smarts, bid me take a bow (so I did), and continued on with the tale. Another American tourist looked over at me and state/asked, "You're a teacher, huh?" to which I replied that I was. Yes, I am a smarty pants when it comes to things like this.
After my moment of glory, Thing 1 and I finished looking at the exhibits before exiting the observatory and heading back down the hill into Greenwich Park. As we made our way through the park we saw a dachshund-walking club; there were about twelve to fifteen dogs walking through the park with their owners. (They are called "sausage" dogs there.) There was one lone lab mix that was tailing the group and along for the walk.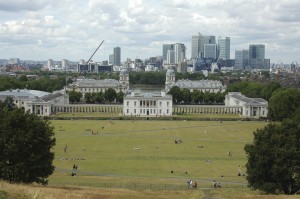 We stopped in quickly at the touristy store to get Mr. T a gift. He really loves die-cast cars, so we ended up getting him a red double-decker bus, and a traditional black London cab. I stuffed it in my backpack as we walked into the DLR station to make our way back to London. Our next stop was very touristy — Madame Tussaud's Wax Museum.
Yes, I know they have one near us in Hollywood. They even have one in Las Vegas and in San Francisco. (I haven't been to any of them.) But the location in London is the original, so how could we pass it up? Our tickets were timed, so as long as we arrived between 4:30 and 5:00 p.m. (or 16:30 and 17:00, since they use 24-hour time over there), we were in! (For the record, we arrived at 16:45.) I was unprepared for just how close visitors could get to the wax models. I knew we would be able to look at them; I didn't know we could touch them and pose with them! This was going to be fun.
The first room is all Hollywood stars with flash strobes going off, as if we were walking the red carpet. The majority of stars on display are English, with a few Americans thrown in, as well as Bollywood stars, too. Thing 1 took his picture with Helen Mirren and I took my picture with Colin Firth (the best Mr. Darcy in my opinion).
We also took pictures with Johnny Depp,
George Clooney, and Morgan Freeman
before moving on into another part of the museum. Thing 1 snapped my picture with the current James Bond Daniel Craig and I snapped his picture with Arnold Schwartzenegger as Terminator.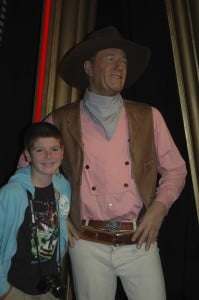 As we progressed through the museum, we encountered famous athletes like Tiger Woods and David Beckham. (Beckham was in the museum twice, as a matter of fact.) There was, of course, a whole wing devoted to royalty, so I made sure to have my picture taken with Princess Diana, the Queen Mum,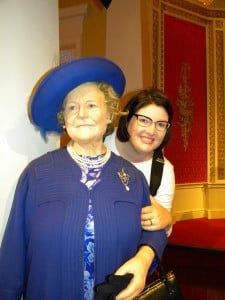 and Harry, Camilla, and Prince Charles. I took photos of Henry VIII,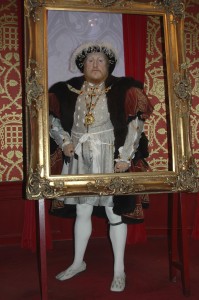 Queen Elizabeth I, and Queen Mary. (As for how Madame Tussaud's was able to create these models, they must have had to rely on historical accounts of their appearances. For today's modern wax models, the process to create the wax figure is extremely precise and exacting. I saw a whole documentary on it once.) The museum charged to have one's picture taken with the Queen, Prince Phillip, Prince William, and Kate, so we passed on that, but I was able to take a great photo of the four of them by themselves before other tourists entered in the scene for their shot.
As we went further into the museum, we were able to take our pictures next to famous artists and scholars like Albert Einstein,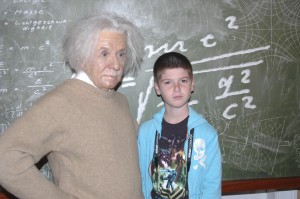 Isaac Newton,
and Vincent Van Gogh,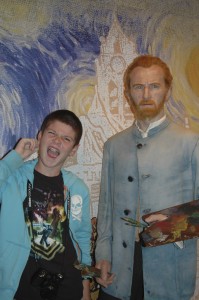 as well as musicians like The Beatles,
Lady Gaga, and more. We saw Justin Bieber there, so we took a picture of him but mocking him (because he's a punk and an idiot). They did have a section of the museum set up with wax figures of world leaders, like the current British Prime Minister David Cameron. Also there were Angela Merkel (Germany), Vladimir Putin (Russia), and François Hollande (France). I took Thing 1's picture next to Barack Obama,
but we both agreed that Barack Obama really didn't look like Barack Obama. Most of the other wax statues though were indescribably real looking. The museum also had world leaders that have passed, including Nelson Mandela, Martin Luther King, Jr., President John F. Kennedy, and Winston Churchill. The museum even had a Marvel Comics section, a little multi-sensory show, and a small ride giving visitors a history of London. All in all, it was an awesome way to spend a few hours!
It was Sunday, though, and when we came out we were hungry for a good meal. Sundays in England (for a lot of people) mean a roast, gravy, peas, potatoes, and Yorkshire pudding. I wanted that traditional Sunday experience, or as close to it as I could get. Before we left the hotel for the day, I researched a few places to eat. I settled on a place called The Albany, which was not too far from Madame Tussaud's. We sat down at a table, since no one was there acting as host or hostess and telling people where to sit. And we sat. We sat some more. No one was coming to our table. (I am used to the American tradition of a server coming to your table to take your order, but that wasn't how it was done in London pubs.) I asked Thing 1 what he wanted, and then I went up to the bar to order our food and drinks. Thing 1 ordered fried chicken with onion rings and lemonade. I ordered my traditional Sunday roast dinner and a good ale. The music was awesome, our food was delicious and everything I wanted. I was a very happy camper.
Thing 1 and I were beginning to suspect, though, that lemonade in London (and Paris) isn't what lemonade is in the U. S. — it is actually just 7-Up. I was sure this would be just one of many cultural differences we'd observe during our time here.
Our first full day in London was awesome! There was so much left to see, though, in the days ahead. Tomorrow, we were going to spend a day with old friends, Ms. Sue and Mr. Tony, and get to see a bit of England outside of The Big Smoke (London).