Though we were tired, Thing 1 and I could not dawdle when we woke up for Day 2 of our time in England. Today, we were going to spend a little bit more of a relaxed day with dear friends of my aunt's, Ms. Sue and Mr. Tony. But, we had a train to catch and a time that we were due to arrive in Guildford, Surrey, and I didn't want to be late!
I got up and began to get ready while Thing 1 was a slug and wouldn't get out of bed. I watched the BBC's version of  "Good Morning America" or the "Today" show while I got ready. Just as they do morning traffic in Los Angeles, and tell viewers which freeways are already congested or are suffering from a "sig alert" because of an accident, the BBC gives updates on whether or not all of the Underground trains are running on time. They also gave an update of train service in the Chunnel . . . and it was down. There were delays (and some routes were just plain cancelled) due to a broken down train. It made me SO HAPPY we did not experience that on our way to London just two days previous. That would have stressed me out. I was SO READY to be in England, and to have been told that I couldn't get there as I had planned . . . ugh.
So once Thing 1 and I got done getting ready, I sent an email to Ms. Sue and Mr. Tony to let them know we were on our way. Though I had a mobile number at which I could reach them, I hadn't yet had success calling from my U. S. phone to a French or English number. Even when I was in Paris and tried calling home to Mr. Rovira's U. S. phone, I didn't have success. I didn't want them to get to the Guildford station too early! To get started on our journey, Thing 1 and I needed to head to London Waterloo station. Like Kings Cross or Victoria station, this is a large hub that caters to rail, underground, and busses. It was south of our hotel, about a mile across the Thames River. Thing 1 and I hopped on a bus at Horseferry Road and went across the Lambeth Bridge to the station. This was our first red double-decker bus ride! 🙂 Since we didn't need to go far, we didn't actually go on to the upper level . . . next time, perhaps.
We would be traveling on the first off-peak  train to Guildford, about 30 miles southwest of London. Even though Thing 1 and I were not traveling during the peak morning commute hours, Waterloo Station was still plenty busy. It is one of the busiest in London and in Europe (in the top 20, I read). We headed to the ticket counter to purchase our tickets and then headed to the platform concourse area to look for our train and the platform from which we would embark. It is a big difference to be at Waterloo Station where there are 19 platforms, as compared to our Fullerton train station where there are only two! I was worried we would get on the wrong train; we checked and double-checked, and for good measure we asked someone who was standing nearby just to be sure we were going to get on the correct one. I had not seen Ms. Sue or Mr. Tony for more than 25 years, so I wanted to make a good impression by being on time in the right spot — not by being a featherbrained tourist who couldn't make heads or tails of a train schedule. The train ride itself was pleasant; I don't get a lot of opportunities to ride the train here in the U. S. We have cars, so we use those as our primary form of transportation. I did spend some of the time on the train attempting to figure out how to call a U. K. number from my U. S. phone just to try to keep Ms. Sue updated. As we passed through towns on our way to Guildford, my service sometimes worked and sometimes dropped out, so it made trying to send a text or a call somewhat frustrating. I finally managed to send a successful text when we were one station out from Guildford.
We got off the train and made our way to the entrance of the rail station. I was on the lookout for friends I had not seen since I was about Thing 1's age: 12 or 13. I was hoping none of us had changed so much we would be unrecognizable; luckily, that was not the case. Ms. Sue and Mr. Tony looked just as I remembered them! Mr. Tony was kind enough to put the washing that Thing 1 and I brought along with us into the car, while Ms. Sue took Thing 1 and I on a small walk through Guildford to see a few key sights. Mr. Tony was going to meet up with us at a bridge that crossed the River Wey. Guildford has a connection to Lewis Carroll, of Alice's Adventures in Wonderland literary fame. Near the station in a leafy party is some statuary to commemorate Alice and the rabbit that makes up a big part of the plot of the book. In one part of the park is a statue of Alice and her sister reading;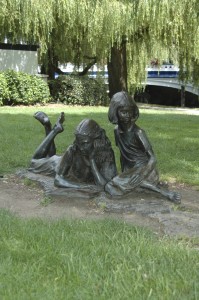 a few feet away is a small statue of a rabbit seemingly jumping into a rabbit hole.
Lewis Carroll died in Guildford, at a home he bought for some of his spinster sisters, and he is also buried in Guildford. By this point, Mr. Tony had met up with us and we continued to walk through Guildford some more. We made our way closer to the ruins of Guildford Castle and the home that Carroll bought for his sisters.
In a small park, within sight of the house (privately owned today), is another statue with reference to  Carroll's Through the Looking Glass. This one depicts Alice actually moving through a looking glass.
As far as the house is concerned, Mr. Tony intimated that historians and conservationists hope that when it comes up for sale again, it can be bought and made into a museum for all to enjoy.
We continued on to see a bit more of Guildford (and more of Surrey!) . . . more about that in the next post!