Our second full day in Paris happened to be the Fourth of July, so in honor of the occasion I wore white shorts, a red t-shirt, and I carried my blue sweater with me.
(It had rained by the time we woke up and it was a much cooler day. I looked forward to not sweating as much!)
I was happy to be in France on the 4th because, after all, if it were not for the French helping us out during the Revolutionary War, we would have lost. Ironically, the first stop on our itinerary for this day was a visit to the Palace of Versailles, home of the last French king, Louis XVI. He, of course, lost his head during the French Revolution (which started shortly after we were finalizing the writing of our U. S. Constitution).
Unfortunately, to get there we had to get on that blasted RER C line again. And, because it was "out of the zone" covered by our Paris Visite pass, we had to pay for our tickets both there and back, which cost a total of €16. Feeling apprehensive, Thing 1 and I went to the usual Métro stop and prepared to transfer to the RER C line. We got on going the correct direction, and we were congratulating ourselves, thinking we finally got it. But after the Eiffel Tower stop, instead of going to the direction of "Javel" it went a different direction entirely (Avenue of President Kennedy)! So . . . frustrated again, Thing 1 and I got off of the train, exited through the "sortie" and made our way to the other side of the platform to make our way back to the Eiffel Tower stop. We inserted our tickets into the turnstile . . . only to find they didn't work anymore! To the Paris Métro system, our journey had come to an end (even if we didn't go to Versailles); now that we were headed back in the opposite direction (to fix our mistake), it meant the tickets were not valid. So . . . Thing 1 and I made our way to a kiosk at the President Kennedy station to buy new tickets. As before, on the day of our arrival, when I couldn't get my credit card to work in the kiosk, it wouldn't work  this day either. It turns out that, unless you have a "chip" credit card, which most Americans don't, it is not possible to purchase tickets at a self-serve kiosk . . . and of course there was no attendant on duty at the station. We were stuck! That is, we were . . . until the brilliant Thing 1 said, "Wait! Can't we use our other Paris Visite tickets to get back in the station and get back to the Eiffel Tower stop at least?"
Yes! Yes, we could! So we did. Since the Eiffel Tower station was a much bigger "touristy" station, there was an attendant there who explained how to get on the right train to Versailles and sold us new tickets. It turns out that there are essentially two RER C trains sharing the same track. Thing 1 and I did have the right idea to start off. What we did wrong is that we didn't get off at Eiffel Tower and wait at the platform for another train coming on the same track that would veer off into the direction of Versailles. It turns out that with this RER line, going in the correct direction is sometimes not enough. It is necessary to get off, wait at the platform, and then get back on another train. Confusing! I got it finally, but it was in vain because after our trip to Versailles, we wouldn't be needing to travel anywhere anymore on an RER line. All of our other sites we were going to visit were accessible by Métro.
So we got to Versailles after that with no incidents. Immediately upon disembarking from the train and exiting the station, Thing 1 spotted a McDonald's. I told him that when we were done with Versailles, I would get him an ice cream. Don't think he would let me forget it! We approached the gate, accented with gold.
Versailles is immense and impressive. Thanks to my Paris Museum Pass, I didn't need to wait in line to purchase a ticket; I simply walked right up to the line ready to enter the palace.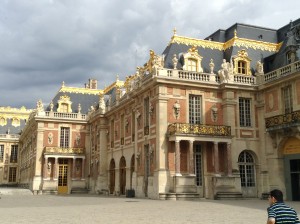 It did not cost a bit for Thing 1 to enter. In fact, every museum we went to was "no charge" for anyone under 18 years old! The tour started off with a description of how Versailles had changed over the years from a "hunting lodge" into the complex it is today. It explained what happened to the palace after the fall of the monarchy. Then the tour showed the king's rooms, the queen's rooms, and the famous "Hall of Mirrors."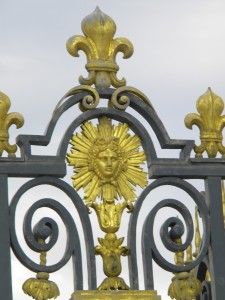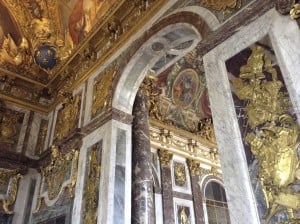 It is hard to describe the opulence of the king's rooms: the ceilings were painted by French masters, with scenes that symbolized the king's great power and majesty. There were works of art on the wall, marble floors and accents, crystal lighting fixtures, statuary, and views out on to the gardens below.
We broke for a bit and had lunch at a restaurant there called Angelina. They have a few locations around Paris, including at Versailles. I ordered quiche Lorraine, some French onion soup — though to them, I guess it is just onion soup — and a chocolate eclair. Lunch was delicious and I was proud of Thing 1 for going out of his "comfort zone" to try a bit of my quiche and the soup.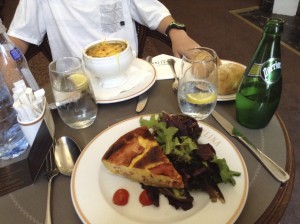 That, and he was being such a team player as we walked around Versailles for hours, he definitely earned that ice cream at McDonald's! After lunch, we had a quick tour of some of the rooms set aside for the king and queen's children. As we were walking through one of the rooms, on the velvet wall coverings, someone had rubbed in "USA!" (because you know velvet is like that). It afforded me another opportunity to remind Noah of how important it is to be good examples of Americans rather than the crummy example of whomever had done that. From the children's rooms, we headed out to the gardens. They stretch out as far as the eye can see.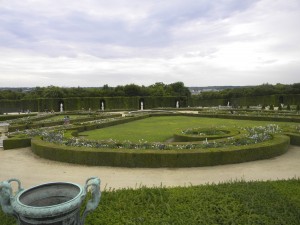 There was NO WAY Thing 1 and I were going to walk them in their entirety. Our feet were hurting, and I already had a blister, so we did not even make it out to see Marie Antoinette's "Petite Trianon" or the other chateau on the property set aside for the king's mistress. We turned in our audio guides and headed back to the train station, and Noah's well-deserved ice cream.
More about the McDonald's we visited, the Arc de Triomphe, and the Louvre in the next post!