Our day started off drizzly again and was only about 62.6˚ — in a word, perfect!
I was loving the weather in England. All we ever get is dry, sunny, and hot. This past winter, we hardly had any rain at all, and only a scant amount. In England, it rained on us almost every day. It was awesome.
I woke up early that morning to blog about some of the other adventures Thing 1 and I had had so far on our trip. We were off to Stonehenge later on in the day so, not only was I blogging, but I was also Yelping and Googling some possible sites to eat an early dinner or a late lunch or shops to visit in Salisbury, the town closest to the stones. I was also catching up on some of the news coming from the States, by visiting some of the online editions of Southern California newspapers.
Though Thing 1 and I had bought our tickets to Salisbury the night before on our way back to the hotel, we didn't quite know how we were going to manage getting to Stonehenge itself. The visitor center is located about ten miles away from the train station at which we would be arriving. There was a bus that took tourists arriving at the train station to the visitor center, but when I checked online to purchase tickets for the fare, it said that one needed to make reservations twenty-four hours in advance. (The fare included admittance to Stonehenge and the visitor center.) I had no idea if they had enough tickets available for the bus to the site, or if they even sold them at the train station or if they could ONLY be purchased in advance. So that, obviously, wasn't going to work for us. Next, I visited the official Stonehenge site, and it said that "only a limited amount of tickets" are set aside for same-day visitors! Obviously, I didn't research that one carefully enough. So, even when I got to Salisbury on the train, and let's say I managed to get a seat on the bus to the visitor's center, there was no guarantee once we arrived there that we could even get tickets to go inside. Would our trip out to Salisbury be for nothing? I hoped not. We set off. By the time we set off on the train, the sun was peeking through grey skies.
I just want to say, too, that I found it curious that the U. K. is on the metric system, but some things are still measured in miles rather than kilometers. It was about 88 miles from our hotel to Stonehenge, about the same distance from Fullerton to San Diego (for comparison).
It was a nice trip by train. Thing 1 played games on his iPad as we rolled through the English countryside. I watched every mile of the scenery pass by in a blur. I found it all very beautiful, and so very different from the drought-tolerant landscaping prevalent in Southern California. It turns out that we could get tickets on the bus to Stonehenge right there in the train station. They could be purchased on site. We quickly walked to the line to purchase tickets so that we got there before the bulk of the tourist passengers on the train got there, too. A bus was leaving in about ten minutes, so we lucked out on the timing. Our fare also paid for our entrance to Stonehenge, so we never needed to worry about arriving there and not being able to see the site because the visitor's center had run out of tickets. We were in! After we boarded the bus, I relaxed, knowing we were off to see a great and wondrous landmark. It was a sure thing now.
The bus pulled out and began its way to Stonehenge. It made its way slowly through the narrow streets of Salisbury. It was a very picturesque town — quaint and cute. Salisbury is also famous because its cathedral contains one of the four remaining copies of the Magna Carta from 1215. Before I knew for certain that we would be able to see Stonehenge, I reasoned that, at the very least, we would be able to visit the cathedral and see the Magna Carta. Okay, so it's true we already saw a copy at the British Library, but . . . it's the Magna Carta! We could see another one . . . it is such an important document. But I digress . . .
So the bus pulled out of the station and passed through Salisbury's center. Soon, though, we were in the rolling hills surrounding the town. I saw a polo field — which we just don't have here in California. The only polo field I know of in Southern California is outside of Santa Barbara. It just isn't a popular sport here. I was amazed that people were actually trying to doze or sleep on the bus! How could they close their eyes to the beauty and the sights of this country? They were all tourists like me, and I just couldn't comprehend how they didn't want to take it all in.
Stonehenge is pretty impressive. Today, tourists are not allowed close enough to the stones to actually touch them or walk among them. (Unless you're Barack Obama. A few weeks after we were there, he visited, and he got to go into the inner circle.) It is still amazing to see them, though. At the visitor center, they had a replica of a stone in the courtyard that tourists could stand next to, in order to gauge their true size in comparison to themselves.
It was cloudy and blustery, but it never rained. The clouds and blustery wind provided a dramatic backdrop to the stones, and Thing 1 and I sat for a while on the manicured grass surrounding them just looking at them and taking it all in.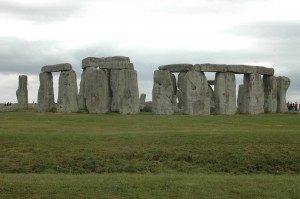 The visitor center had displays pertaining to the people who lived in the area at the time Stonehenge was arranged, as well as theories as to how they built it.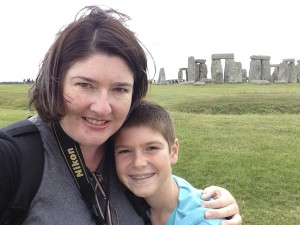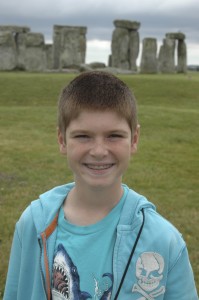 Our visit concluded, we boarded the bus at the visitor's center to begin our trip back to Salisbury and, ultimately, back to London. In Salisbury, Thing 1 wanted to stop at a Subway to get a sandwich to eat before getting on the train. We sure were eating a lot of sandwiches! I was partial to the Pret A Manger chain that was all over London. Thing 1 just isn't a foodie like I am. Stomach full, Thing 1 had no interest in browsing through the rest of the town, and I wasn't going to push him, so we made it back to the train station. It turns out the we had just missed a train, so we needed to wait an hour until the next one arrive. It was actually nice to just sit, read, and people watch for a bit. Eventually we made it back to Waterloo Station in London, took a bus to a stop near our hotel, and called it a day. Another item crossed off my list of things to see!