Our first "real" day in Paris started out very inauspiciously when I woke up and started trying to blow dry my hair. Our hotel (which has an elevator sooooooo small it is almost not to be believed) actually had a hair dryer in the bathroom. I was not counting on this, and so I brought my own. But, as there is a dearth of plugs in this room, I figured I'd use theirs even though I usually hate hotel hair dryers. So, I began blow drying my hair, and after about two minutes, the dryer completely stopped working. Hmm. This develoment was decidedly NOT good, for I only had not even one-half of my hair dried, and Thing 1 and I had vacation pictures to take! I could not go out with only a fraction of my hair looking decent. So, I got out my own blow dryer and my plug adaptor (because electrical outlets are different here), plugged in my dryer, and began to dry my hair.
Once again, after about two minutes, there were problems. This time, whatever was happening with my blow dryer and adaptor actually tripped a circuit breaker with a POP, and plunged our room into darkness. All electricity was off. "Oh great," I thought, "I caused our hotel to lose electricity!" I imagined someone coming to our room, kinda accusatory, like, "Ugh, what did the Americans do NOW? Silly Americans." But no one did, so I went downstairs and told the concierge that my room had no electricity. He went right to the "cabinet"SSSSS to flipped the switch, and put us back in action. He was very gracious, enough so that I assumed that I was not the first foreigner to have something like this happen. But, my problem was only half-way to being solved. I still had wet hair and was understandably loathe to use my own dryer again. But, the one in the bathroom wasn't working either, or so I thought. Upon picking it up again, I found it had resurrected itself and was ready to work for me . . . for two more minutes. Finally, I figured out that the thing shut off when it got too hot, cooled off, and was ready to work again. I switched to a cooler, slower setting to dry my hair. Finally successful, Thing 1 and I grabbed our things and went downstairs to breakfast.
Thing 1 is a very picky eater, so I think he was very underwhelmed by their spread. They did have small baguettes, some cold cuts, some plain yogurt, fruit salad, apple sauce, juice, corn flake-looking cereal, hard boiled eggs. I think he was expecting American-style waffles or French toast. So he settled in with his baguette which, make no mistake, made him happy. He is a total bread eater, so that was right up his alley.
After a quick breakfast, we stopped by an ATM to get some more Euros, and headed off to the Métro station. To make traveling easier we needed to purchase the "Paris Visite" pass, which allowed for unlimited travel on Métro lines, RER lines, busses, etc. No more calculating fares and buying things ticket at a time — only to cause problems for us later! That purchased, we headed off to figure out how to get to the Eiffel Tower, our first stop. I wanted to be there nice and early because I didn't pre-book tickets for that, and I didn't want to wait hours in line. (I had read about the lines being crazy insane during the tourist season.) Thing 1 and I have had no problems navigating the Métro lines — those are easy. The RER lines are a different story. It isn't as clear-cut (or at least it wasn't to us) what platform to go to in order to ensure we were going the correct location. And as we finally figured out (but not until the next day on the way to Versailles), just because a train pulls into the station, doesn't mean that that's the train you want! Sometimes four trains may pass before the one you need pulls in. It was a mystery to us, and made us groan when we saw we needed to board one at some point.
But, we made it to the Eiffel Tower, which was amazing to see.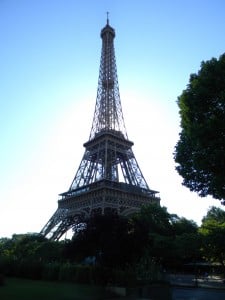 Thing 1 and I walked along the Seine and approached it gradually. It is breathtaking in its size. We got in line, which was long but moved quickly; we got there just as it opened for the day. Thing 1 pleaded for me not to buy the tickets that took us to the summit, but I did anyway. How could I not? We were PACKED and squished into the elevator that took us up to the first observation deck. It was a hot and un-air conditioned elevator, filled with people of all nationalities. Thing 1 and I emerged onto the deck and took in the view. We visited all four sides to see in all directions and I took a few panoramic shots.
We took two "selfies" of ourselves, and then got in the line to get to the summit.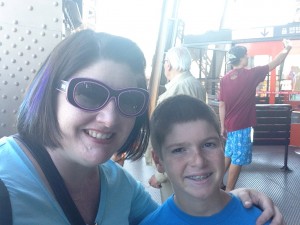 Behind us in line were two fifteen year old girls (guessing at age), who were loudly talking and generally being obnoxious. I whispered in Thing 1's ear that they were perpetuating the stereotype of Americans being thought of as rude, and reminded him that we were to always be the best model for proper American behavior that we could be. The view from the summit was even more amazing. Thing 1 was happy that the observation deck was enclosed; he opted not to go out onto the open one. 🙂
More about our day in another post!