Well, this has been a freakin' long flight. We've got just under two hours to go, and I am getting antsy to land. Currently, Thing 1 and I are flying over the North Atlantic, due south of Reykjavik, Iceland.
Our flight path has taken us northeast from LAX, past Las Vegas and Denver, up through the eastern coast of Canada. Then, we contined northeast until we were roughly even with the southern tip of Greenland, before veering slightly to the southeast toward Ireland and, eventually, London. We hit uncomfortable turbulance over the Rockies . . . well, uncomfortable for me. I prefer none! Then, Thing 1 and I managed to sleep a bit until we found ourselves over Canada. (And there again, some even worse turbulance, at least to me.) Since then, we've been awake most of the flight. He and I have never been very good car sleepers, unlike Mr. Rovira and Thing 2, so we've not had an easy time of catching some ZZZs. The shades are all drawn on the airplane, even though it is currently bright, bright daylight outside. (As I started this, it was only a quarter to four Los Angeles time, so I think they're trying to give people as much time to sleep as possible before we go shades up again.)
Thing 1 has enjoyed the first plane ride (that he can remember) so far. He loaded up a bunch of movies onto his iPad before we left, so he's been keeping himself occupied with watching those, plus playing games. There's a plug right at each seat, so he's been able to play to his heart's content without having to worry about trying to conserve his battery.
We were served a meal soon after lift-off, which he enjoyed. I booked us a window seat when we checked in, so he was able to watch the land disappear below us as we took off, watching things become smaller and smaller. He enjoyed the feeling of extreme speed as we tore off down the run way and eventually became aloft. I was having so much fun observing HIS observations, that I forgot to really be nervous myself, which I usually am at lift-off.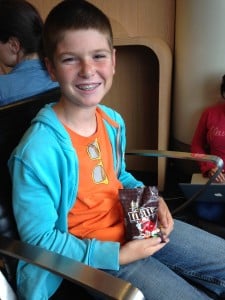 Getting through security and eventually boarding the plane was surprisingly hassle free. Thing 1 was a bit bewildered by having to take off his shoes in the security check, saying, "It's not like I have a gun in my shoe!" I had to tell him that: (1) He shouldn't even utter such things audibly in an airport, and (2) That, even though I knew HE didn't have such a thing, someone DID once, and that's why we've taken shoes off ever since at security checkpoints. (I wore my Dansko clogs specifically for that reason on this flight, aside from the fact that they are comfy and I can stand in them all day at school and feel great.) The only unusual thing is that they are doing construction at LAX on a new terminal (who knew? not us!), so after we reached our gate, we had to be shuttled to a remote gate to actually get on our plane. We had to show our passports every step of the way, which is cool for a new passport holder like me. I had no idea that they had as much land as they did at LAX to develop into more terminals and runway space. Suffice to say, I saw parts of LAX that I didn't know existed.
So, in about one hour and twenty-eight minutes, when we pull into our gate at Heathrow, we'll have a chance to get off and walk a bit to stretch our legs. Since we are actually heading to Paris before coming back to London, we need to make our way from Terminal 3 to Terminal 5 to catch the next flight. That flight is a quick British Airways hop over to Paris. It is slotted to be about one hour, fifteen minutes, but that includes time pushing back and pulling into gates, so the airtime will be less. I imagine it will be somewhat like what a flight to Las Vegas is for Southern Californians. We'll be landing at the smaller of the two airports that service Paris, Orly. Then, it's get a Paris Museum Pass in the terminal, get through customs, ride the Métro to our hotel, and get settled. When all is said and done, that might be 8:00 or 8:30 p.m. Paris time, which is about 11 or 11:30 a.m. Los Angeles time. Since it will be close to bedtime in Paris, Thing 1 and I can simply hit the sack to catch up on the sleep we didn't get on the way over and fight jet lag. IF, however, the excitement of being here is strong enough, we might fit in a trip to the Arc de Triomphe at nightfall before bed. (Sunset is much later here because we are at a higher latitude than Fullerton.)
Keep reading and I'll let you know how getting through customas was, and what we decided to do upon our arrival!