I've been doing lots of things!
First, I gave up Diet Coke. Former students, you know there was the Big Gulp full of Diet Coke sitting on my desk in the morning . . . for the first week of summer, when I was out and about doing errands, I would stop in a get a fill-up. But then after one week . . . starting the second full week of summer vacation, I haven't had a drop to drink. So for three full weeks I've been drinking water. water. water. Oh, and more water.
It is good that I am drinking all this water because I've started jogging again after ten years. Last week I jogged 15 miles on the trails around my house. The week before that I jogged 12 miles. Mrs. Olivolo is my running partner and "coach" and I couldn't ask for a better person to help me get back into running. She's enthusiastic and pushes me when I want to stop and walk. She commends me when I go farther than I've gone before. We tried to run today, but my leg cramped up WAY painfully, so I've been icing it and stretching it today. Tomorrow I'll do a better warm-up, and then we'll try for our usual three miles.
I've read some books, and taken lots of naps. 🙂
Also, we are having a new driveway put in at our house.
As many of you know, I am off to Paris and London this summer, and I have spent many hours at the computer planning my itinerary for my vacation. I am SO EXCITED, as I am ashamed to say I have never been out of the country before. Today, Thing 1 and I went to exchange some of his money he's been saving for some Euros and British Pounds. He's known for a year that I am taking him, so he's been recycling bottles and cans. He managed to earn about $300 from doing that, so he changed all of it in today to currency he can use while we are overseas.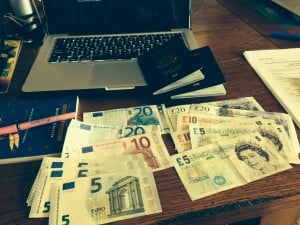 Being the Type A person that I am, I meticulously plotted the locations we're going to visit onto an iCal calendar that I shared with Thing 1. When creating an event, it is possible to also link URLs, attachments, and other notes to the event. So, for each of our stops, I linked the website to the event, input the address of the location, and added other notes (like best Tube or Metro stop to use to get there). This way, Thing 1 could read about all of the sites we're going to visit. (This is in addition to what I've already told him, of course.) Here's where were going to go:
Arc de Triomphe
Eiffel Tower
Musée de l'Armée (which contains Napoleon's tomb)
Musée d'Orsay
Palace of Versailles
Musée de Louvre (where the 

Mona Lisa

is!)
Cathedral of Notre Dame de Paris
Conciergerie and Sainte Chapelle
Sacre Coeur
A Chunnel Trip!
The Royal Observatory at Greenwich (to see the Prime Meridian line!)
Madame Tussaud's Wax Museum
The Tower of London and the Tower Bridge
HMS Belfast & Churchill War Rooms
Windsor Castle, Kensington Palace, and Hyde Park
The George Inn (which is in Southwark, close to where Geoffrey Chaucer's pilgrims to Canterbury Cathedral set out upon the journey)
Canterbury Cathedral
The British Library (to see a Gutenberg Bible! the Magna Carta! and more!) and The British Museum (the Rosetta Stone!)
Houses of Parliament at Westminster Palace (and Big Ben)
The National Gallery and Trafalgar Square
Stonehenge
The Harry Pottery Studio Tour (especially for Thing 1)
Phew! We'll be busy! I'll be posting pics and wrap ups of the places we've visited while we're away. Keep checking back to vicariously travel along with us!
Hope you are having a wonderful summer — I am!
Mrs Rovira